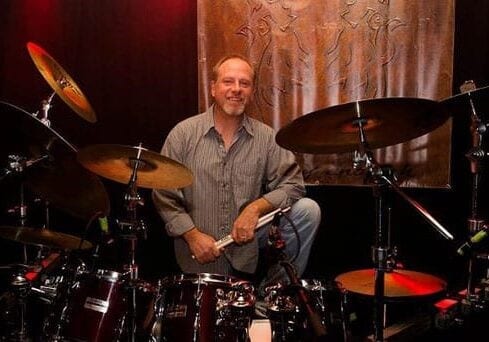 Some background info about me . . .
I was born to drum.
Really? Yes. My passion for drums started at any early age, and making music was all I ever wanted to do! Fortunately, I developed the talent and commitment to make it my livelihood.
How did I do that? By having a work ethic for practice, taking lots of private instruction, and pursuing opportunities to perform.
I studied under the supervision of such recording artists as Joe Porcaro, Ralph Humphrey, Steve Houghton, Casey Scheurell, Jeff Porcaro, and many others.
Musicians learn and grow with other musicians!
I also took private instruction with Joe Morello and continue to stay in touch with internationally known drum educator, Dom Famularo, in Long Island, New York.
And I enjoyed many drum clinics with such recording artists as Billy Cobham and Steve Smith . . .
. . . as well as Dave Weckl -- then and many years later!
Additionally, I have taken lessons at Old Dominion University and Norfolk State University.
I am skilled in all areas of drumming and all styles of music.
Musicians learn and grow with other musicians, and these photos show me "practicing what I preach" in various bands that performed rock, metal, country, pop, and blues.
I am inspired to teach drumming.
While I was performing in bands, I was also teaching students. In fact, I have always taught students – of all ages, levels, and interests.
With over 30 years of experience, I have professionally conducted private lessons in studio and online as well as group lessons and classes in public schools.
Also, for 5 years, I was the Indoor Drumline Director at a high school – intense hard work and team effort! – that resulted in 1st Place General Effect Award in the AIA Circuit.
My students have gone on to perform with colleges and universities, Drum Corps International, and The Blue Man Group. They have joined bands that toured the country and the world. They have also taken up drums just for their enjoyment.
I have developed teaching methods that help speed up the learning – as well as the creative – process of drumming. My series of method books with play-along CDs was awarded the Presidential Citation from the Governor's School for Visual & Performing Arts at the University of Richmond.
I look forward to working with you!
My passion for drums and music translates to sharing knowledge and experience with students. I value a great reputation for helping them achieve their goals. As I inspire them, they inspire me! The journey to learn and grow together is heartfelt and priceless.